Kindle Download
The In Retrospect Kindle edition is available for immediate download for only $3.19 (discounted from the publisher's price of $3.99). Read and enjoy!
Click here for the In Retrospect Kindle edition!

Read the Backstory
Readers are asking questions about the In Retrospect universe: What happened to the Earth? How did the Oku ended up on Anatolia? Why did they wear face shields? Look for these and other anwers here.
The Reviews Are In!
Starred PW Review: [A] carefully crafted whodunit . . . shifting timelines clearly notated in chapter headings and technological / theoretical discussions that readers can skim or chew over with equal enjoyment should make this speculative fiction mystery accessible to all closed-room murder fans.
Booklist: [T]he story has a hidden subtext—although, we also realize, there were lots of hints—and the novel is vastly different from what we thought it would be. A cleverly structured mix of science fiction and mystery.
Romantic Times: - Four Stars - Frequent shifts of time and place...require constant reorientation...in Larson's gripping novel. Merit's attitude is fueled by adrenaline, antipsychotics, and an intense hatred of the enemy.... Soon, treachery within the ranks leads to unexpected consequences.
Kirkus: Murder in the far future has a time traveler seeking answers in the recent past . . . will Merit choose to challenge her values for the sake of her family and crew, or is the past too far out of reach? Twisty plot . . --Kirkus
!!Order NOW and Get

27%

Off
the list price!!
That's only $18.90
(full retail price: $25.95)
Click here to order. Don't wait! This discount won't last forever!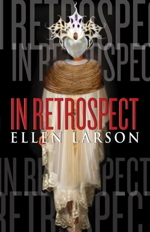 An old-fashioned whodunit set in a post-apocalyptic world.
In the year 3324 the Rasakans have attacked the technologically superior Oku. The war is a stalemate until the Oku commander, General Zane, abruptly surrenders. Merit, a staunch member of the Oku resistance, fights on, but she and her comrades are soon captured. An uneasy peace ensues, but the Rasakans conspire to gain control of the prized Oku time-travel technology.
When Zane is murdered, the Rasakans exert control over Merit, the last person on Earth capable of Forensic Retrospection.